Introduction
Wonderland Villas is an estate of 21 blocks in Kwai Chung. The estate is at an altitude of around 250-300m. It was built in the mid-1980s. Thus trees planted as part of the landscaping at the time are now approaching 25 years old e.g. the casuarinas on the jogging trail. We have recorded 99 species of birds in the area in the last 10 years. For some great photos taken at this site see the following link:
http://www.hkbws.org.hk/BBS/viewthread.php?tid=1103
Key Species
Winter: Japanese and Grey-backed Thrush, Rufous-tailed Robin, Stubtail Warbler, Ashy Drongo, Mountain Tailorbird, Blue-winged Minla, Silver-eared Mesia. Summer: Hair-crested Drongo. All year: Besra.
Other Species
Greater-necklaced Laughingthrush.
Other Wildlife
The most commonly seen mammals are introduced squirrels, macaques and the resident Porcupines. Much less frequently Barking Deer and Wild Pig are seen. In March 2004 a Leopard Cat was seen at 8am within 50m of the main road near the Wellcome supermarket. Approximately 15 species of reptile and amphibian have been recorded here. Hong Kong Newt was recorded in 2008 for the first time. The moth list numbers approx 100 species.
Birding
Thrushes and Tristram's Buntings are most commonly fund around the jogging trail and the banana gully just to the south of it.
Habitat and Vegetation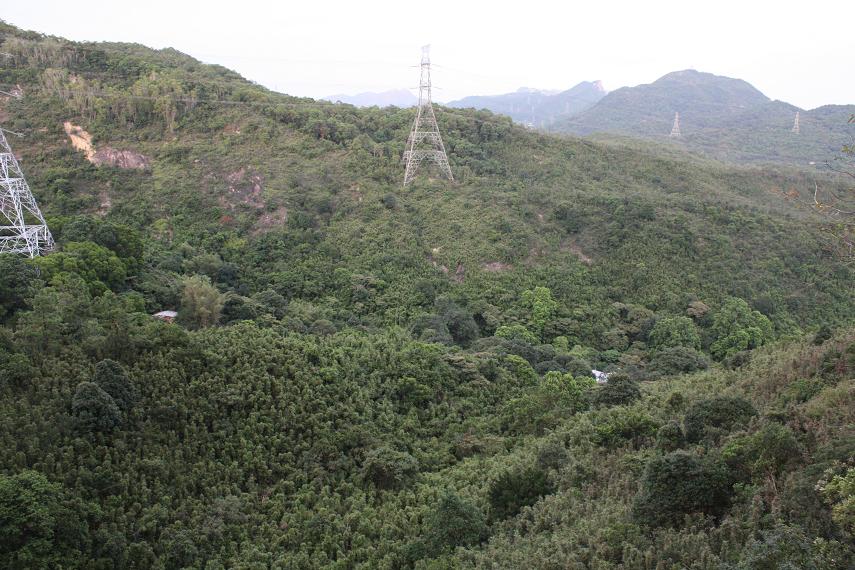 The vegetation is secondary shrubland for the most part. It has regenerated well in the past 20 years plus in the area around the estate itself. In the gully there is a wider variety of trees, partly because the valley was occupied as a squatter area from the early 1950s and the inhabitants planted fruit trees and bamboos for various uses. The picture above shows the view from block 21 looking north-east across the gully towards the Kowloon Reservoirs.
Getting there
The nearest MTR is Lai King and it is easily reached by taking a green minibus #47M up from the opposite side of the road from exit A.
General Information
There is a restaurant near the bus station at the foot of the estate.