Introduction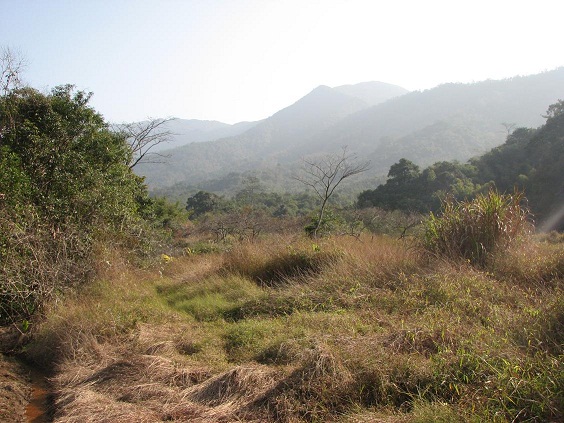 Guangdong offers some superb birding in the north (Ba Bao Shan and Chebaling), an easily accessible introduction to birding in China in the west and centre (Dinghu Shan, Luo Fu Shan, Nan Kun Shan), and a number of infrequently visited reserves at the extremities of the south-west and the east. Though it has been more fully explored than any other province in south-east China, there are still surprises turning up such as the discoveries in 1998 of Emei Leaf Warbler at Ba Bao Shan and White-eared Night Heron at Chebaling. Many of the sites can be reached in a long weekend from Hong Kong and are well worth visiting.
Key Species
White-eared Night Heron, Black Eagle, White-necklaced Partridge, Chinese Bamboo Partridge, Cabot's Tragopan, Silver Pheasant, Blyth's Kingfisher, 'Chinese' Barbet, Golden-breasted Fulvetta, Golden Parrotbill, Brown Bush Warbler, Emei Leaf Warbler, Goodson's Leaf Warbler, Bianchi's Warbler, White-spectacled Warbler, Brown-chested Jungle Flycatcher, Yellow-browed Tit, Silver Oriole.
Reserves
The province had designated a total of 33 reserves by 1996 and the total has increased since then. The only true sub-montane reserve in the province is Ba Bao Shan. In recent years Chebaling has proved to be the most interesting lowland reserve, though Dinghu Shan and Nan Kun Shan have been frequently visited in the past. A guide to the reserves of Guangdong was published in 1996 (Zhang J. et al, 1996).
Geography of the Province
Guangdong has a rugged landscape broken by the broad plain of the Pearl River, which bisects the province. The coastline has been moulded by various processes including rising sea-levels, which have created a number of flooded river valleys. The underlying rock is mostly igneous or metamorphic, and away from the alluvial plain of the Pearl River much of the soil is poor. This has been exacerbated by extensive land clearance. Leached red earth is a common sight in Guangdong. The coastline is the longest of any province in China.
Habitat and Vegetation
Guangdong is characterised by poor soil in many areas, particularly away from the Pearl River.  After extensive land clearance a good deal of the remaining soil has worsened in quality, and the degraded shrub on hillsides that forms is an all too common and depressing sight in the province. Of the original forest precious little remains, particularly in the lowlands. Only Chebaling and what is left of Bai Yong survive. The vegetation in the original forest is a mix of tropical and sub-tropical species with the Tropic of Cancer neatly bisecting the province. In the south (where there is almost no natural forest) sub-tropical species are more dominant. In the northern Nan Ling range of mountains the altitude and latitude create a warm temperate environment.
Access
Guangzhou is served by flights from Amsterdam and Sydney, as well as from airports in south-east Asia. Shenzhen is also an international airport but is better used as a cheap departure point for flights to various places in south-east China. In Guangdong there are also airports at Shantou, Meizhou, Shaoguan and Zhanjiang. Shantou has daily flights from Hong Kong and weekly connections to Singapore and Kuala Lumpur.
There are still many ferry routes from Hong Kong and Macao and between towns in the province. However, the old steamers out of Hong Kong have now vanished, vanquished by the improved road network. Catamarans are used on most routes as they are faster, but the result is that these travel during the day and so the birder attempting to escape Hong Kong for a long weekend is forced to waste daylight time travelling.
Train services are also useful, particularly for getting to Shaoguan and Dinghu Shan. However, because of the difficult terrain it can take a considerable time to reach the outlying towns in the south-west and east.
The road network has improved considerably over the past few years and there are now good roads connecting Shenzhen and Guangzhou with Shantou in the east. The roads from Guangzhou heading south-west have also been upgraded. Elsewhere, in the poorer counties, travel remains as slow as ever, Be prepared to take days to reach the Jiangxi border or crossing to Guangxi at anywhere other than Wuzhou.
Contacts
Shenzhen Birdwatching Society:
http://www.szbird.org.cn
and email:
admin@szbird.org.cn
WWF China, Guangdong:
http://www.wwfchina.org/bbs/guangdong.htm
Maps
Excellent road atlases have been published for some years and are well worth purchasing for around Rmb25. These clearly identify most of the reserves and are invaluable as a guide for getting to the more remote areas.