Introduction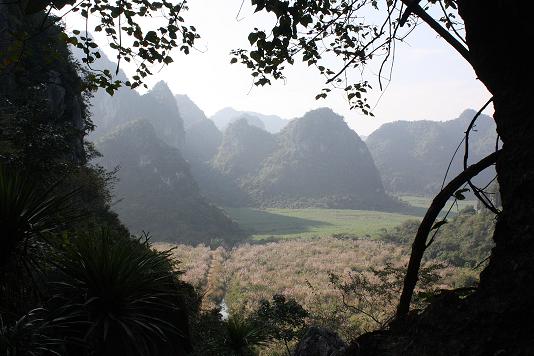 This site comprises a classic limestone hill landscape surrounded by farmland, though the scrubby growth on the hills is difficult to access. Amazingly, it supports the White-headed Leaf Monkey, an endangered sub-species restricted only to the areas between the Heishui He 黑水河 (Blackwater River) and Zuo Jiang 左江 (Left River). The monkey is reasonably easy to find and they will watch you from above as you hike around the hills. The reserve has now been set up as an Eco-Park thanks to the unceasing efforts of Professor Pan 潘文石 from Beijing University and his students. They have been studying the White-headed Langurs since 1996.
Key Species
Striped Tit Babbler, Chestnut-capped Babbler.
Other Species
Crested Goshawk, Green-billed Malkoha, Streak-breasted Scimitar Babbler, Black-throated Laughingthrush, Grey-breasted Prinia, Rufescent Prinia, White-throated Fantail, Black-naped Monarch, Plain Flowerpecker.
Other Wildlife
White-headed Leaf Monkey, Black Leaf Monkey, Rhesus Macaque.
Birding
With little forest cover it is best to bird very early in the morning, particularly in summer and autumn. There is an easy circuit that crosses up over one of the hills and is well worth doing. Striped Tit Babbler occurs in the thicker vegetation on the hillsides, often associating with other species such as Great Tits and warblers. Chestnut Capped Babbler is more likely to be found skulking in the surrounding scrub along with Rufescent Prinia. Crested Goshawks breed in the area and in the early morning the valleys are alive with calling Streak-breasted Scimitar Babblers, Rufous-capped Babblers and prinias.
White-headed Langurs occur in small groups on the hills, their white heads and long white tails are easily seen and juveniles in particular make a screaming noise that may attract your attention. The sub-species, discovered only in 1958, is endemic to Guangxi. The total population numbers about a thousand individuals.
There are also various squirrels in evidence:
Callioscurus
, treeshrews and even the giant
Ratufa
squirrels are found here.
Habitat and Vegetation
Below the hills the old army base has been left to the ravages of the weather and vegetation. Secondary growth is gradually invading. The hills themselves are thinly forested, good enough for many species but not thick enough for many forest birds.
The inside of the two nearest hills was hollowed out by the Chinese army and presumably used as a base for intercepting an invading Vietnamese force since the area is very close to the main road north from the border. It is interesting to take a flashlight and peer inside the great caverns: these are worth checking for bats.
Getting there
From Nanning 南宁 take a bus to Chong Zuo 崇左 and then a bus or taxi south for 35km to the reserve. Alternatively board any bus heading down the main A322 highway south-west towards Vietnam. If using the latter route, disembark at Banli 板利and take another bus 2km to the reserve. There is a large iron gateway on the left and a paved road, this being the entrance to the now abandoned army base. Entrance to the park costs Rmb80 - which is well worth paying for such a worthy cause. There are about four guest rooms where visitors can stay for approx. Rmb 100. It is advisable to book ahead by calling 0771-7930377. There is also a research station here. If you prefer to stay in Chong Zuo town the Jin Hu Bin Guan 金湖宾馆 (tel. 7820880) is cheap and reasonably comfortable.
General Information
County: Chong Zuo Area: 185 sq.km
Altitude: 200-600m Location: 22°24'-22°46' N, 107°22'-107°33' E
Disturbance: Now very little. In the past up until the 1990s the monkeys were occasionally poached for TCM purposes. Nevertheless, this area is interspersed with substantial tracts of sugar cane frequented by farmworkers as well as people tending their buffaloes.