Introduction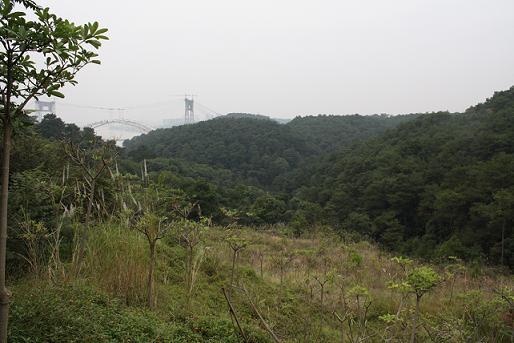 The best site close to Nanning is Qing Xiu Shan 青秀山, a wooded area of hills just to the south of the city. Walk through from the gates up to the open air theatre area and then behind that along a dirt road heading directly for the monument on the hill. Chestnut-capped Babbler occurs in the long grass in that area. Other species recorded at this site include Rufescent Prinia and Eastern Crowned Warbler.
Key Species
Chestnut-capped Babbler, Ruefescent Prinia. Various thrushes and warblers in winter.
Other Species
Mugimaki Flycatcher, Japanese Trhush, Grey-backed Thrush, Rufous-tailed Robin, Radde's Warbler, Chinese Bulbul (black-crowned), Striated Yuhina (all in winter).
Other Wildlife
N/A
Birding
When tourists are about try walking the trail behind the temple on the other side of the main road. Small Niltava and Streaked Wren Babbler both occur here. This is not the best site to record bird calls, as the main road from Daxin to Nanning is busy and noisy.
Habitat and Vegetation
Secondary growth woodland with patches of grassy areas.
Getting there
The park is on the south side of the pearl River. Best access is via motorbike or taxi (the latter will cost about Rmb30 from the centre) since buses only depart from the bottom of the hill. Entrance to the park now costs Rmb15.
There are dozens of hotels in Nanning, one centrally located and comfortable one is the Wanxing 万兴 Hotel, which costs around Rmb220 and is located at #42 Bei Ning 北宁 Street. Tel. 2102888
General Information
County: Nanning Area: ?
Altitude: 200-500m Location: 23°00'N, 107°40'E
Disturbance: plenty of city types exercise in the park every morning. However, if you search carefully you can find quiet areas frequented by thrushes etc.