Introduction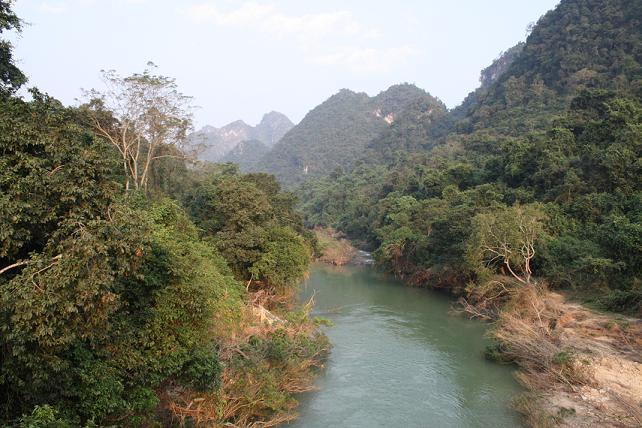 Comparatively close to Nanning, this limestone karst reserve can be a delight. Streaked Wren Babbler is common here in winter. Puff-throated Bulbul is less so, but both seem to be close to their north-eastern limits at this site.
Key Species
Puff-throated Bulbul, Streaked Wren Babbler, Small Niltava. White-eared Night Heron and Oriental Pied Hornbill have been recorded here in the past.
Other Species
Asian Barred Owlet, Collared Owlet, Mountain Tailorbird, Chestnut Crowned Warbler, Golden Spectacled Warbler, Hill Prinia, White-bellied Yuhina, Striated Yuhina, Fork-tailed Sunbird. Black-breasted Thrush is common in winter.
Other Wildlife
Rhesus macaques are plentiful in the area.
Callioscurus
squirrels are also common.
Birding
When tourists are about try walking the trail behind the temple on the other side of the main road. Small Niltava and Streaked Wren Babbler both occur here. This is not the best site to record bird calls, as the main road from Daxin to Nanning is busy and noisy.
Habitat and Vegetation
Limestone karst vegetation, mostly smaller trees and figs. This is not a great site for woodpeckers or barbets.
Getting there
Located on the main road between Daxin 大新 and Nanning 南宁 and about 90km west of the latter. Take a bus towards Daxin and disembark about 10km after turning left off highway #324. The reserve straddles the road, about 8km to the east of the village of Pingshan 屏山. A rickshaw from Pingshan costs about Rmb5.
There is limited accommodation at Long Hu Shan. A basic but clean room with good hot water and a balcony with a pleasant view over the river to the mountains behind costs only Rmb60. With your own transport this reserve could be visited on a day trip from Nanning.
General Information
County: Long An Area: 20 sq. km
Altitude: 300-1000m Location: 23°00'N, 107°40'E
Disturbance: some tourism and noise pollution as the main Nanning-Daxin road bisects the reserve.